Augmented reality and Virtual reality in classroom
📘 Read our flyer: CLICK HERE
🚌 Activities: One afternoon and one full-day excursion.
🏫 Available in: Karditsa
❓ Questions? Contact us dirictly

DESCRIPTION
This course offers educators useful knowledge on Augmented Reality (AR) and Virtual Reality (VR) techniques. It will provide educators with both theoretical and practical knowledge in order for them to be able to create and use AR and VR content during their teaching sessions with the aim to motivate and encourage their learners to reach their full potential. On the completion of the course, participants will have a better understanding of the concept and potential benefits of AR and VR use but they will also be able to create and apply AR and VR content during their teaching sessions, making learning process more engaging.
TARGET-GROUPS
This course is targeted at educators (pre-school, primary, secondary, vocational, adult, special needs) who would like to modernize their teaching methods and incorporate AR and VR technology into their lessons/sessions.
The course is focusing on the pedagogical use of AR and VR technology in the educational process. Each participant needs to bring his own mobile device and it is expected that each participant has basic knowledge of using his device before the course.
MAIN AIM
To improve educators' scientific and pedagogical background through the use of modern teaching methods like Augmented Reality (AR) and Virtual Reality (VR).
BENEFITS FOR THE PARTICIPANTS: SKILLS AND COMPETENCES ACHIEVED
This course provides the general knowledge and understanding required to offer educators the necessary skills to create and use Augmented Reality (AR) and Virtual Reality (VR) content during their teaching/training sessions. By the end of the course, participants will be able to:
◾ understand the usability of AR and VR techniques
◾ understand the advantages and disadvantages of AR and VR usages in educational processes
◾ apply AR and/or VR concept in education process
◾ learn how AR and VR can be used to support learning
◾ use new technology possibilities in a much larger degree, boosting their learners' digital skills
METHODOLOGY
◾ The course uses participatory approaches as much as possible. A variety of methodologies will be used, including lecture/presentation, discussions, group work, questions and answers, demonstrations, and practical sessions (hands-on practice).
◾ Participants will be given a hard copy of the material presented during the course.
◾ Each participant will be assessed throughout the course.
WHY TRAIN WITH US
We are an innovative, flexible and creative training center with the passion to help our learners reach their full potential. We have a proven track of success in all kinds of seminars and trainings.
DETAILED PROGRAMME (DAY BY DAY)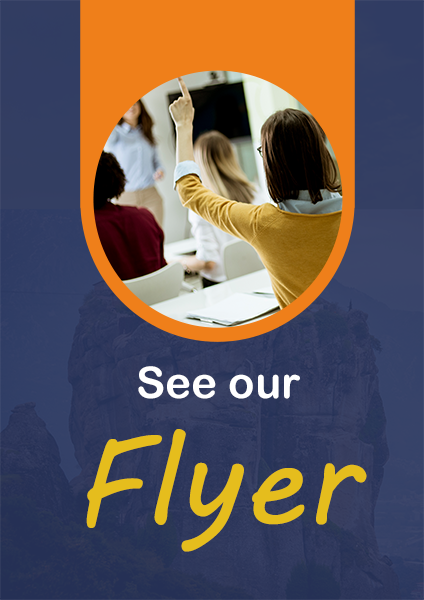 Sunday - Welcome
- Walking City Tour
- Welcoming dinner
Monday - Introduction
- Ice-breaking activities
- Introduction to the course
- Key Competences for 21st Century Citizens
- Effective methods to engage students into the learning process
- ICT in education
Tuesday - The basics of 3D design
- What is a 3D design?
- Introduction to different types of 3D design software
- Creating 3D designs
- Working on Your Project
Wednesday - The basics of Augmented Reality (AR)
- What is AR?
- AR in education
- Introduction to AR apps


- Creation of AR Content
- Working on Your Project
Thursday- Virtual Reality (VR)
- What is VR?
- Introduction to VR software
- Presentation of examples
- Practical creation of VR Content
- Working on Your Project
Friday-Final Day
- Promoting interdisciplinary teaching through Augmented reality and/or Virtual Reality
- Working on group projects on Augmented reality and/or Virtual Reality
- Final presentations of the group projects
- Feedback of the course and evaluation
Closing ceremony
- Handing over certificates
- Farewell dinner
Upcoming sessions
02.10.2023 > 06.10.2023 (Confirmed)
Rate & review
Reviews only come from verified course participants via the European Commission's Mobility Tool+. If you participated in this course, use the Mobility Tool+ to submit a review. If the course is not listed in the Mobility Tool+ yet, please provide to your project coordinator the following course ID: 80776.
Rating: 4/5
rated this course
Mein Kursleiter war sehr gut vorbereitet. Er kannte sich bei dem Thema sehr gut aus und hat mir sehr weitergeholfen. Da das Thema Augmented Reality und Virtual Reality noch nicht so sehr für jüngere Kinder eingesetzt wird und alle anderen Lehrer für die Sekundarstufe waren, waren nicht alle Beispiele für mich relevant. Das liegt aber in erster Linie an dem Thema. Ich habe viele tolle Apps kennengelernt und ausprobieren können.
Translate (Registered users only)
Organiser
E-SCHOOL EDUCATIONAL GROUP
Contact the course provider here or by using the additional contact details provided (e.g. website)
Support materials
Need some help and/or additional information? Check out the Support materials page!