Cybersecurity in the Classroom
🚌 Activities: One afternoon and one full-day excursion.
🏫 Available in: Karditsa
❓ Questions? Contact us dirictly

DESCRIPTION
We live in a technologically-driven world that is unlike anything we've ever seen. Despite the positive influence of technology on human existence, this comfort has come at the cost of cybersecurity threats. Cyber-attacks are very likely to occur if you utilize a technological device in any way.
This course offers educators essential knowledge on cybersecurity concepts and practices. It will provide educators with both theoretical and practical knowledge in order for them to be able to teach others how to stay safe online, during their teaching sessions with the aim to motivate and encourage their learners to reach their full potential. On the completion of the course, participants will have a better understanding of the concept and benefits of Cybersecurity but they will also be able to apply Cybersecurity content during their teaching sessions.
TARGET-GROUPS
This course is targeted at educators (primary, secondary, vocational, adult, special needs) who would like to include Cybersecurity teachings into their lessons/sessions.
The course is focusing on practical applications of Cybersecurity concepts in the educational process. Each participant is expected to understand basic concepts of staying safe while using a computer or a mobile device online.
MAIN AIM
To improve educators' scientific and pedagogical background in the field of Cyber Security and help them and their learners stay safe online.
BENEFITS FOR THE PARTICIPANTS: SKILLS AND COMPETENCES ACHIEVED
This course provides the general knowledge and understanding required to offer educators the necessary skills to teach Cybersecurity to others during their teaching/training sessions. By the end of the course, the topics covered will be:
◾ A general introduction to Cybersecurity
◾ What are the differences between Malware and Badware
◾ Understanding different threat types
◾ How individuals can protect themselves
◾ Careers in Cybersecurity
METHODOLOGY
◾ The course uses participatory approaches as much as possible. A variety of methodologies will be used, including lecture/presentation, discussions, group work, questions and answers, demonstrations, and practical sessions (hands-on practice).
◾ Participants will be given a hard copy of the material presented during the course.
◾ Each participant will be assessed throughout the course.
WHY TRAIN WITH US
We are an innovative, flexible and creative training center with the passion to help our learners reach their full potential. We have a proven track of success in all kinds of seminars and trainings.
DETAILED PROGRAMME (DAY BY DAY)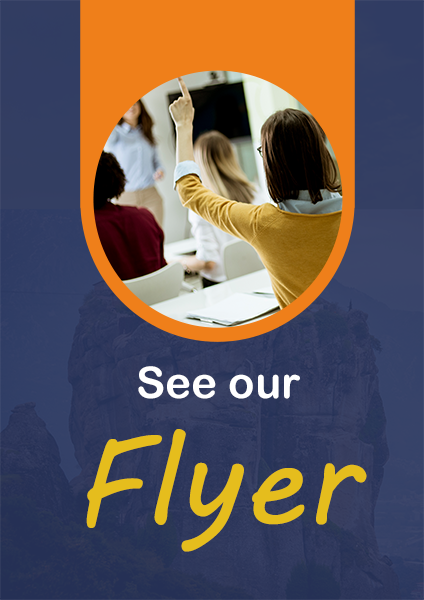 Sunday - Welcome
- Walking City Tour
- Welcoming dinner
Monday - Introduction
- Ice-breaking activities
- Introduction to the course
- A Brief History of Cybersecurity
- Key Concepts in Modern Cybersecurity
- Risk Evaluation, Assessment and Management in Cybersecurity
Tuesday - Keeping Your Online Identity Safe
- Who can access your information online?
- Limiting access to your personal information
- How to create strong passwords & password software to use

- What kind of information to avoid sharing online?
Wednesday- What is phishing?
- What is social engineering?
- What types of messages should we never trust?
-Security software that can keep our accounts safe
-Encryption and VPNs


Thursday- A Brief History of Computer Viruses
- Types of Malware
- Types of Adware/Badware/PUP
- Essential Security Software
- How to handle an infected computer (and what NOT to do!)
Friday-Final Day
- Roleplay/Workshops on cyber risk scenarios
- Short presentation on possible careers in Cybersecurity (for learners)
- Q&A session
- Feedback of the course and evaluation
Closing ceremony
- Handing over certificates
- Farewell dinner
Upcoming sessions
03.04.2023 > 07.04.2023 (Confirmed)

11.09.2023 > 15.09.2023 (Confirmed)

20.11.2023 > 24.11.2023 (Confirmed)
Rate & review
Reviews only come from verified course participants via the European Commission's Mobility Tool+. If you participated in this course, use the Mobility Tool+ to submit a review. If the course is not listed in the Mobility Tool+ yet, please provide to your project coordinator the following course ID: 228149.

There are no reviews for this course.
Organiser
E-SCHOOL EDUCATIONAL GROUP
Contact the course provider here or by using the additional contact details provided (e.g. website)
Support materials
Need some help and/or additional information? Check out the Support materials page!