Bullying & Behavioral Problems In The Classroom
📘 Read our flyer: CLICK HERE
🚌 Activities: One afternoon and one full-day excursion.
🏫 Available in: Karditsa
❓ Questions? Contact us dirictly

DESCRIPTION
Bullying in any from it may appear is considered to be violating to the human rights -adult or child. It can be divided in many subcategories but the main categories are physical, cyber and emotional bullying. This subject is very sensitive and seems to be growing rapidly day-to-day, mainly because there is yet to be found an effective way to deal with it. It is quite controversial and problematic to the students, the school community, the family and the main people involved (the victim and the perpetrator).
TARGET-GROUPS
Educators
School principals & directors (primary & secondary schools)
Teachers (primary & secondary schools)
Teachers working in Vocational Training Schools or Institutes.
Educational Advisors
Adult education staff
Higher education staff
NGOs staff
Policy makers
Public Servants
MAIN AIM
To improve educators' scientific and pedagogical background in order to be able to ensure safety in schools and other settings.
BENEFITS FOR THE PARTICIPANTS: SKILLS AND COMPETENCES ACHIEVED
The participants will be able to:
acquire a wider understanding of the field of bullying
gain knowledge of how to reduce bullying in schools
identify bullies and victims
recognize the fine line between legal and illegal behavior
exchange good practices against bullying in schools
gain Information and discuss on the topic.
METHODOLOGY

The course uses participatory approaches as much as possible. A variety of methodologies will be used, including lecture/presentation, discussions, group work, questions and answers, demonstrations, examples of good practice, case studies, and practical sessions (hands-on practice).
Participants will be given reading material.
Each participant will be assessed throughout the course.
WHY TRAIN WITH US
We are an innovative, flexible and creative training center with the passion to help out learners reach the best of their potential. We have a proven track of success in all kinds of seminars and trainings.
DETAILED PROGRAMME (DAY BY DAY)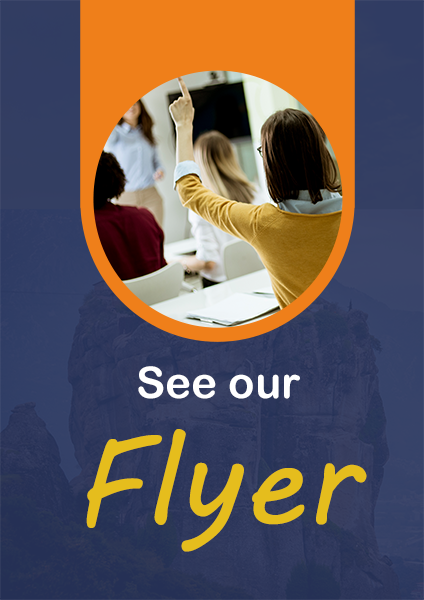 Sunday Welcome
-Walking City Tour
-Cultural Evening
-Welcoming dinner
Monday Introduction
Morning:
-Ice-breaking activities
-Introduction to the course
-What is bullying and Cyber-Bullying
Afternoon:
-Policies against bullying in Education
-Discussion on the topic
Tuesday
Morning:
-Behavioristic Analysis of Bullying
-The victim and the perpetrator
-Bias against each role of the above
Afternoon:
-Other Behavioral Problems in the Classroom
-Discussion on the topic
Wednesday
Morning:
-Different types of bullying


-Cyberbullying
-Physical Bullying
-Emotional Bullying
Afternoon:
-Sexual Bullying
-Verbal Bullying
Thursday
Morning:
-How to make your classroom a safe environment
-Model-class environment
-How to identify and stop bullying in your classroom
Afternoon:
-Videos of students coming forward and what urged them to do it
-Social Emotional Learning
-Activities to develop social competences in the classroom
Friday
Morning:
-Overall Summary
-General Discussion
Afternoon:
-Group Project and Presentation
Closing ceremony
-Handing over certificates
-Farewell dinner
Upcoming sessions
03.07.2023 > 07.07.2023

09.10.2023 > 13.10.2023
Rate & review
Reviews only come from verified course participants via the European Commission's Mobility Tool+. If you participated in this course, use the Mobility Tool+ to submit a review. If the course is not listed in the Mobility Tool+ yet, please provide to your project coordinator the following course ID: 172334.

There are no reviews for this course.
Organiser
E-SCHOOL EDUCATIONAL GROUP
Contact the course provider here or by using the additional contact details provided (e.g. website)
Support materials
Need some help and/or additional information? Check out the Support materials page!