Steam & Robotics
📘 Read our flyer: CLICK HERE
🚌 Activities: One afternoon and one full-day excursion.
🏫 Available in: Karditsa
❓ Questions? Contact us dirictly

DESCRIPTION
The goal of this course is to offer educators the necessary skills to deliver STEM education in an attractive and engaging manner in class. The course will provide teachers with concrete ideas and resources in teaching programming and computational thinking skills. They will also receive training in learning methods such as Project Based method or Inquiry Based method in order to explore ways to motivate and encourage students. After the end of this course, they will have a better understanding of the concept and potential benefits of STEM education and they will have improved the skills and competences that are required to convey that knowledge to their students.
TARGET-GROUPS
This course is targeted at ICT teachers (pre-school, primary, secondary, vocational, adult, special needs) that want to provide training into STEAM & robotics education and other teachers who would like to link their subject with technology.
MAIN AIM
To improve educators' scientific and pedagogical background through the use of technology in the educational process.
BENEFITS FOR THE PARTICIPANTS: SKILLS AND COMPETENCES ACHIEVED
By the end of the course, participants will be able to:
understand the important role of technology in education
improve their knowledge and skills in the field of STEAM & robotics
create interactive STEAM learning materials to be used into classroom
improve the quality of teaching, studying and learning processes through the use of technology
develop and integrate new strategies into the school´s curriculum
METHODOLOGY

The methodology that is going to be used in order to introduce the participants into STEAM education will stimulate active participation and build a diverse and stimulating environment for reflecting, working and learning.
The methodology includes lectures, presentations, team-working, web resources, project-based working, and practical sessions (hands-on practice).
Participants will be given a hard copy of the material presented during the course.
Each participant will be assessed throughout the course.
WHY TRAIN WITH US
We are an innovative, flexible and creative training center with the passion to help out learners reach the best of their potential. We have a proven track of success in all kinds of seminars and trainings.
DETAILED PROGRAMME (DAY BY DAY)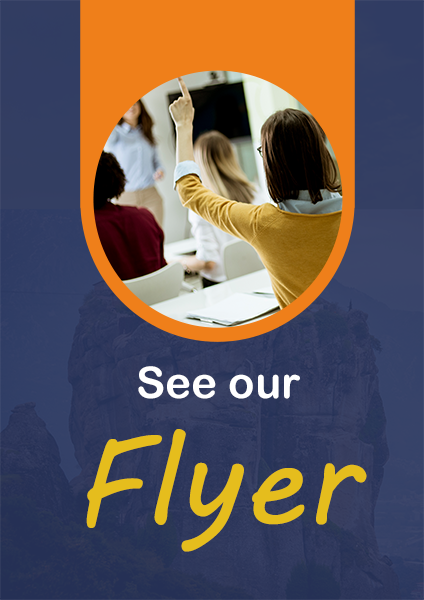 Sunday-Welcome
-Walking City Tour
-Welcoming dinner
Monday-Introduction to the course
Morning:
-Theoretical Knowledge
-The National Education System
-ICT in Education
Evening:
-Introduction to STEAM field along with the concepts, theories, practical applications.
Tuesday
Morning:
-Teaching programming and computational thinking skills
-Project Based Learning
-STEAM in Education
Evening:
-How to get involved
Wednesday-Introduction to basic programming
Morning:
-Introduction to basic programming
-Basic Principles and Commands
-Hands-On Training
Evening:
-Presenting Robotics to Students
-Robotics-Related Material
Thursday-Further Specialisation
Morning:
-Advanced Robotics (Arduino)


-Introduction to learning by doing
-How to utilize and program robotic sensors in order to teach STEAM concepts
Evening:
-How to use robotics as an organizer to teach STEAM (Science, Technology, Engineering, Art and Mathematics) concepts.
Friday- Group Project, Practice & Presentation
Morning:
-Group Practice
Evening:
-The last day of training, each trainee will present and deliver his/ her project, which will be the composition of everyday projects created by the participants, according to the training program.
-Feedback & Assessment of the course
Closing ceremony
-Handing over certificates
-Farewell dinner
Upcoming sessions
03.07.2023 > 07.07.2023

09.10.2023 > 13.10.2023
Rate & review
Reviews only come from verified course participants via the European Commission's Mobility Tool+. If you participated in this course, use the Mobility Tool+ to submit a review. If the course is not listed in the Mobility Tool+ yet, please provide to your project coordinator the following course ID: 172321.

There are no reviews for this course.
Organiser
E-SCHOOL EDUCATIONAL GROUP
Contact the course provider here or by using the additional contact details provided (e.g. website)
Support materials
Need some help and/or additional information? Check out the Support materials page!