MATHEMATICS & ICT in Education: GeoGebra Apps
📘 Read our flyer: CLICK HERE
🚌 Activities: One afternoon and one full-day excursion.
🏫 Available in: Karditsa
❓ Questions? Contact us dirictly

DESCRIPTION
The goal of this course is to introduce teachers to concepts and tools that focus on the pedagogical use of digital devices in the field of Mathematics. They will receive training on how to use different tools in their digital classrooms in order to engage their students in their own learning and support their numeracy learning. They will also receive training in learning methods in the classroom as well as exchange ideas and develop links with teachers from other European countries. After the end of this course, they will have a better understanding of the concept and potential benefits of using ICT during the teaching of Math and they will have improved the skills and competences that are required to convey that knowledge to their students.
TARGET-GROUPS
Professional Mathematicians
Teachers of primary schools
Math teachers of Secondary Schools
Everybody who wants to incorporate digital learning into their math lesson
MAIN AIM
To improve Math educators' scientific and pedagogical background through the integration and effective use of digital technologies into classroom.
BENEFITS FOR THE PARTICIPANTS: SKILLS AND COMPETENCES ACHIEVED
By the end of the program, participants will be able to:
expand their Knowledge in the field of ICT in Mathematics
integrate Digital Tools in their lessons
use GeoGebra to support deeper learning in mathematics
develop a culture of digital technology use and shape the identity of e-citizenship
adopt modern ways of learning through apps which facilitate and support learning, communication and self-assessment
use tools to help educators organize and manage the digital classroom and create interactive materials to encourage and enhance learning
use learning methodologies which strengthen the learning process into digital classrooms
develop skills and knowledge for the safe and responsible use of digital technology for learning
integrate and effectively use of digital technologies into a curriculum
METHODOLOGY
The course uses participatory approaches as much as possible. A variety of methodologies will be used, including lecture/presentation, discussions, group work, questions and answers, demonstrations, examples of good practice, case studies, and practical sessions (hands-on practice).
Participants will be given a hard copy of the material presented during the course.
Each participant will be assessed throughout the course.
WHY TRAIN WITH US
We are an innovative, flexible and creative training center with the passion to help out learners reach the best of their potential. We have a proven track of success in all kinds of seminars and trainings.
DETAILED PROGRAMME (DAY BY DAY)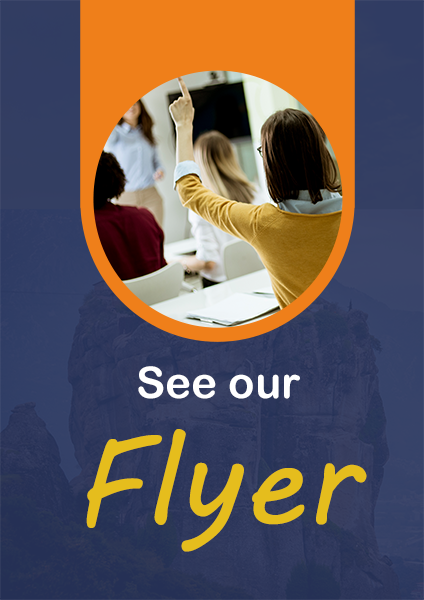 Sunday Welcome
-Walking City Tour
-Welcoming dinner
Monday - Introduction to the course
Morning:
-Theoretical Knowledge
-The National Education System
-ICT in Education
Evening:
-Mathematics in the modern ages
-Is it possible to combine ICT learning and Mathematics?
Tuesday
Morning:
-How can Digital Tools engage and motivate students?
-Is it more fun than traditional methods?
-Can ICT be an efficient substitute for traditional education
Evening:
-Educational Apps
-Apps in the classroom of Mathematics
Wednesday
Morning:
-GeoGebra Math Apps (Platform, create account, search projects, help, use of wikis)
Evening:
-Teaching with GeoGebra (Part I) (Create new project, tools, create courses and activities, geogebra classrooms, monitoring the students)
-Cultural Visit
Thursday
Morning:
-Teaching with GeoGebra (Part II) (Geogebra 3d, CAS geogebra, geogebra sheets)
Evening:

-Teaching with GeoGebra (Part III) Sharing projects of participants, create activities with video quiz etc
-Cultural Dinner
Friday- Group Project
Morning:
-Group learning activity
Evening:
-The last day of training, each trainee will present and deliver his/ her project, which will be the composition of everyday projects created by the participants, according to the training program.
-Feedback of the course and evaluation
Closing ceremony
-Handing over certificates
-Farewell dinner
Upcoming sessions
01.05.2023 > 05.05.2023 (Confirmed)

03.07.2023 > 07.07.2023 (Confirmed)

02.10.2023 > 06.10.2023 (Confirmed)
Rate & review
Reviews only come from verified course participants via the European Commission's Mobility Tool+. If you participated in this course, use the Mobility Tool+ to submit a review. If the course is not listed in the Mobility Tool+ yet, please provide to your project coordinator the following course ID: 172320.
Rating: 5/5
rated this course
Course I've attended was MATHEMATICS & ICT in Education GeoGebra Apps organised by E-SCHOOL EDUCATIONAL GROUP. Communication with organiser prior the course was very easy and responses for inquiries came quickly. Welcoming in Greece was very warm and generous. We spent one evening with course provider and teacher discussing educational politics which was particulary interesting. We also went hiking with the course teacher one afternoon. Truly generous people! The course itself did meet curriculum provided. Participants were asked about their wishes regarding the details of the course.There was some rearrangement of timetable, but this was done with collaboration of the participants. This course was useful for understanding the possibilities of GeoGebra in classroom activities. I've allready put skills learned to use in my classroom. I would recommend this course for anyone looking to learn to use GeoGebra in detail.
Translate (Registered users only)
Organiser
E-SCHOOL EDUCATIONAL GROUP
Contact the course provider here or by using the additional contact details provided (e.g. website)
Support materials
Need some help and/or additional information? Check out the Support materials page!