Coaching And Mentoring For Professionals
📘 Read our flyer: CLICK HERE
🚌 Activities: One afternoon and one full-day excursion.
🏫 Available in: Karditsa
❓ Questions? Contact us dirictly

DESCRIPTION
This training course ''Coaching and Mentoring for Professionals'' is an essential course for people in charge at various types of institutions, for training managers, professionals and entrepreneurs that want to make their business and their staff live up to the contemporary skills, methods and techniques of their work industry. It is suitable for those who want to improve their training skills, those who seek to know the prerequisite of developing, organizing and leading training programmes as well as those involved in the implementation of training policy and improvement of staff competency levels. It refers to adult trainers and coaches.
At the end of each day the participants will feel the urge to think upon the information received. After the completion of the Training Programme the experience and the knowledge gained will create the urge to learn, engage and participate more into their field of expertise.
TARGET-GROUPS
This course is targeted at:
School principals & directors (primary & secondary)
Teachers (primary & secondary)
Academic staff (tertiary)
Training managers & supervisors
Trainers (formal & non formal education)
Professionals exposed in any type of audience
Professionals and staff who like to enhance their public speaking abilities and presence
Professionals and staff responsible for implementing Organisational training policy
Professionals and staff responsible for improving staff competency levels
HR managers and personnel
MAIN AIM
To improve participants' skills in developing, organizing and leading training programmes as well as in the implementation of training policies and improvement of staff competency levels.
BENEFITS FOR THE PARTICIPANTS: SKILLS AND COMPETENCES ACHIEVED
By the end of the program the participants will have acquired the skill set and the capability to:
use of training tools (case studies, videos, games, animations & practical experience)
in depth understand the various types of training
structure their training and set the right training goals
acknowledge the best training method for each case of learner
handle difficult learners
handle difficult questions
METHODOLOGY

Problem-solving techniques and practices
Real-time challenges
Experimental & Face to face training
Thematic Workshops
Assessment and Evaluation
Invited speakers

Upon arrival on the course, the participants will receive a hard copy of the material presented during the seminar. The material will also be presented in a form of Power Point (PPT) presentations, videos & animations. The active involvement and hands on experience of the participants will be secured through various training tools (case studies, worksheets, scenarios & exercises, in order to ensure that the theoretical knowledge gained by the participants can be used in real life scenarios.
WHY TRAIN WITH US
We are an innovative, flexible and creative training center with the passion to help out learners reach the best of their potential. We have a proven track of success in all kinds of seminars and trainings.
DETAILED PROGRAMME (DAY BY DAY)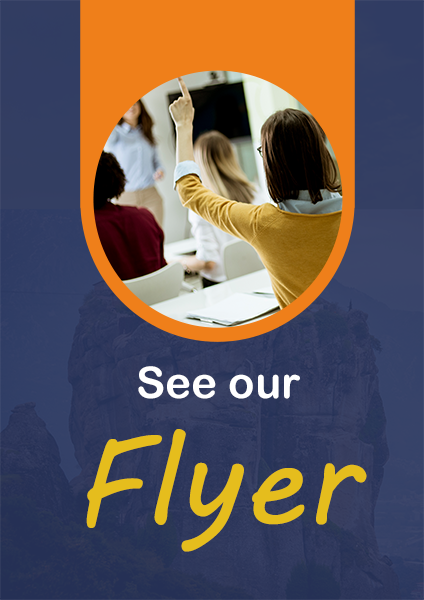 Sunday Welcome
-Walking City Tour
-Welcoming dinner
Monday – Introduction
-Characteristics of a good trainer
-What we instinctively know that makes a great training experience?
-A good trainer vs an excellent trainer
-Learning principles & learning styles
Tuesday – Needs Analysis & Training Aims
-Needs analysis- how to decide who need to be engaged into the training process?
-When training doesn't make sense & problems should be addressed in a different way
-How to structure your training (Part I)
-Setting the training aims (Part I)
Wednesday – Trick or Treat? Opening Activities, Energy Boosters & Exercises
-How to structure your training (Part 2- adapt to the learners needs)
-Setting the training aims (Part 2 - adapt to the learners needs)
-Active learning: presentation, characteristics, proposed activities
-Proven ways to engage learners ''learning by doing''
Thursday – ''When things get tough, only the tough ones continue''  
-How to handle the difficult learners and turn them into active learners
-Encouraging participation
-''the tough learner''
Friday – Ask an expert


-Face to face with real-time trainers
-Questions
-What to do when you just don't know the answer
-How to let the learner know that you genuinely care for their prospects and personal development
-Feedback & Assessment of the Programme (review)
Closing ceremony
-Handing over certificates
-Farewell dinner
Upcoming sessions
10.10.2022 > 14.10.2022

03.07.2023 > 07.07.2023

09.10.2023 > 13.10.2023
Organiser
E-SCHOOL EDUCATIONAL GROUP
Contact the course provider here or by using the additional contact details provided (e.g. website)
Support materials
Need some help and/or additional information? Check out the Support materials page!